'Advanced Style' Ari Seth Cohen Photo Exhibition in Tokyo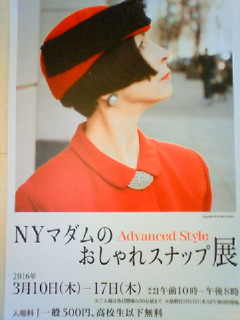 This exhibition at Seibu Ikebukuro department store showed the photos of NY women who were over 60 with eclectic fashion styles.
It was such a fun experience to see the elder ladies in their unique clothes and accessories such as bold yellow scarf, hand-made purple mantle, and huge square glasses!
When I was living in NY, I did see a very fashionable, lean, elder woman walking down Madison Avenue from my office's window in the Upper East Side.  I thought that she was a very special one, but now I learnt that there were a LOT more well-dressed elder ladies like her in NY.
These women were colorful in outfits and also in personalities.
They knew who they were, what they liked, and that they could wear what they wanted.
'This is what I am. There is nothing I can do about.'
Above is what a 95 years old lady said about herself in a video at the site which was introducing some of the models.
It was funny and quite impressive to me.  What a free spirit is that!
'I am dressed for the theater of my life every day.'
This is another lady's comment about her dressing up.
I may need to pay a bit more attention to what to put on, and I believe that it will be more fun.
The day before, I visited Annie Leibovitz's photo exhibition.
I felt blessed to be able to see these great photo shows two days in a row.
This exhibition is now finished, but another one called 'Advanced Style 2' is open at Seibu Shibuya department store till Sun., Mar. 27th, 2016.  Sorry but the department's site is in Japanese.